Estacion de esqui Mount Hotham webcam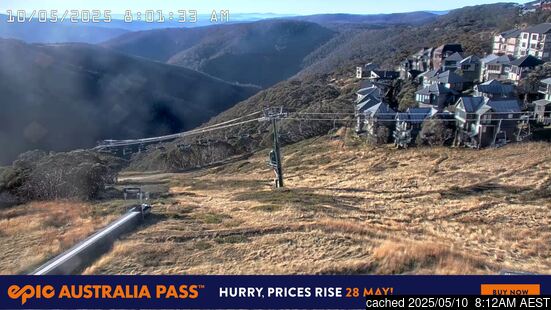 Imagen de webcam de Mount Hotham más reciente
La tabla anterior muestra el pronóstico de tiempo para Mount Hotham en la altitud específica de 1850 m. Nuestros modelos meteorológicos sofisticados permiten prever pronósticos para la cumbre, la mitad y la base de Mount Hotham. Para aceder a los pronósticos de tiempo a otras alturas, pinche en la navegación en la parte superior de la tabla. Para una visión general, consulte el Mapa meteorológico de Australia.
Pinche aquí para más información sobre niveles de congelación y sobre cómo pronosticamos las temperaturas.
Comentarios de Visitantes para Mount Hotham
Karl de Switzerland escribe:
If you love freeriding, Mount Hotham is one of the best ski resorts in the world. I should know as I have skied every major Australian and NZ ski resort, many resorts in western Canada, western USA, Italy, France, Austria and Switzerland. I normally visit around 25 different international ski resorts per year.
If you are prepared you may encounter rain, slush, elephant snot, Australian Powder, Canadian corduroy and champagne powder. You will enjoy the good, the bad and the ugly at Mount Hotham. Like all Australian ski resorts conditions and weather are variable, but Mount Hotham has many secrets. Secrets so good, that when the conditions are perfect, there is not a better place to ski.
Try the following during the worst possible snow storms only with a local or a Mount Hotham ski ambassador.
Inbounds
1. Blue Ribbon as you can hide from the wild weather,
2. Notice Board, The wall of death and the pipeline off the Village loop,
3. The Canyon and Brockhoff off the HV chair.
Prepared for backcountry and very wild weather. Take a friend, when the Gotcha chair is closed and walk up Green Line and ski the following only if you know the terrain and can ski any run in any condition:
1. Gotcha, The ridge, and Mary's Slide. As soon as you drop off the ridge you are in a paradise full of untouched powder!
2. Coles Bowl and the remaining runs skier's left are great if the bottom funnel of Mary's has been skied out.
3. If the Orchard is closed, don't fear, ski all the way down Keogh's down to Orchard load cross the Swindler's platform and follow the creek back to Swindler's trail. It eventually joins the official Valley trail from Mary's Slide.
Where to go when the storm clears? HV
1. HV as it typically opens on certain in-peak season at 7:30am. Check with Guest Services. It is good everywhere.
2. Wendix is untracked, because most people turn right at the top of HV.
3. Try skier's left of Imagine, over the ridge is untracked, then continue to top of Brockoff and feed right back onto Patroller's drop.
Unfortunately, HV is usually skied out in one or two hours, so, Extreme and Orchard are next on the radar. As soon as Gotcha opens, well, take the lift...
1. Ski the Extreme zone.
2. Ski into Orchard and enjoy intermediate cruising,
3. After Orchard is done ski Boarder's Valley, skier's right of Spargo's trail. Snowboarder's take this option, because they run out of momentum as Spargo's trail enters the flat, wooded section of the run.
4. One tree hill is quite nice. If this is what you like then, ask Guest Services or a local to show you the Golden Point area. Do not enter this area without local knowledge. There are no reference points through the woods and you could easily lose your bearing. The area is skied out very quickly, so, be sure you can ski any run in any condition.
What's next?
If you don't mind a walk then try...
1. Australia drift and Avalanche Gully.
2. If you like this alot, Dargo west face and try Parachute Drop (Instructor's Gully) way beyond the Drift T-bar.
3. Done it all...ski HG AKA Harris Gully, but, you should have backcountry experience before skiing down the other side ridge beyond the Drift T-bar.
4. There are more bowls including Dargo bowl, and Diamantina or South West face to Baldy Hollow beyond the Telecom tower on the summit.
Further afield...
1. P Gully - the north facing bowl skier's left of the summit,
2. Eagle's ridge - the southern rim of P Gully, and
3. Women's Downhill off the south face of Mt. Higginbotham.
As you can see, there is plenty to offer the freerider!
Lea 14 otras críticas de Mount Hotham o entrega su propio comentario
Gratis Snow-Forecast.com Widget del Tiempo para su sitio web
El widget del tiempo para esquiar para Mount Hotham está disponible para ser empotrado en sitios web externos sin costo alguno. Proporciona un resumen diario de nuestro pronóstico de nieve en Mount Hotham y estados de tiempo actuales. Vaya simplemente a la página para su configuración y siga los 3 pasos sencillos. Tome el código de transferencia del hipertexto y péguelo en su propio sitio web. Puede escoger la elevación en el pronóstico de nieve (cumbre, ascensor de medio-montaña o fondo) y unidades métrico/imperiales para el motor del pronóstico de nieve y convenir su propio website…. Click aquí para obtener el código