Resumen de Nieve Mundial
Hemos creado esta página para ayudarle a encontrar las mejores condiciones de nieve. Combina datos pasados, presentes y futuros de Snow-Forecast.com con actualizaciones regulares. La página de Resumen de Nieve se actualiza los lunes y jueves para todas las principales estaciones de esquí. Reportes de Nieve en vivo están mostadoas en tiempo real cuando este entregado por Twitter por nuestra red global de periodistas. La lista de Selección de Estaciones enseña las estaciones de esquí alrededor del mundo donde se pronostica nueva nieve, se reporta nieve en polvo y las últimas profundidades de nieve.
SNOW NEWS UPDATED 15 JANUARY 2020

INTRODUCTION The sunny weather has continued over much of mainland Europe for a third week with only small snowfalls in isolated spots to report. There has been a little fresh snow in the Pyrenees, however, and Scandinavian ski resorts have again posted the most fresh snowfall on the continent.
AUSTRIA REPORT There's not a lot of change in Austria compared to a week ago, which is all very different to a year ago when the northwest of the country was experiencing some of its heaviest snowfalls for decades with a three-week period in which metres of snowfall were reported up to mid-January 2019. This year it has been mostly sunny and a little too warm below around 1500 metres causing problems for lower elevation ski centres. Most of the country's bigger destination resorts are looking good, however, with snow pushed down on to lower slopes where needed. There was actually a little fresh snow at the start of the weekend at many areas, but just a few centimetres on higher slopes, mostly though it has been more sunshine. The best conditions and deepest snow is up high. The Stubai glacier, with 20cm (8") on its lower slopes and 3.3 metres (11 feet) up on the glacier itself, illustrates the big difference between higher and lower slope depths at present.
FORECAST It looks like the rest of the week should continue as most of January has been with full sunshine most days in most Austrian resorts and temperatures a little too warm (a bit above freezing) all week; however, there are early signs that there should finally be an improvement over the weekend with a ten-degree temperature drop to well below freezing and some snowfall from Saturday, currently looking heaviest on Sunday. The totals at present don't look huge, 10-20cm in general. Definitely a move in the right direction if the forecast continues to firm up through this week.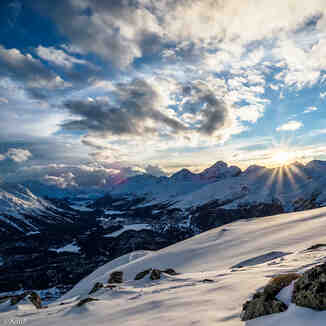 SWITZERLAND REPORT We are now into the fourth sunny week in a row in Switzerland; not wanting to sound too repetitive but the picture has changed very little. Snow cover is pretty good from about 1500 metres altitude and above. This is the snow that fell in November and December, topped up with snow-making at many resorts. Lower slopes generally have cover with snow moved down from above in green valleys. The snow on-piste is generally good, especially in the mornings, as it has become very hard-packed and as the days are short in January the groomed surface can be skied off leaving icy slopes below. Andermatt (36/390cm / 14/156") continues to post the deepest base in the country.
FORECAST After almost a month there does look to finally be a decent snowfall in sight this coming weekend for the Swiss Alps. It is just a little early to be certain. Temperatures are set to dip from Friday and get to double-digits below freezing on higher slopes with snowfall expected through the weekend. At this point, it looks like the heaviest could be on Saturday with 72-hour totals of 20-60cm (8-24") likely.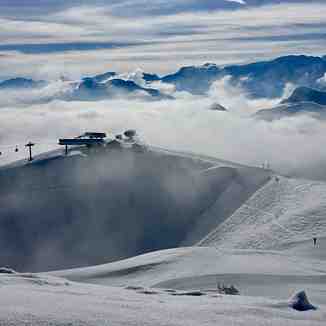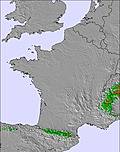 FRANCE REPORT It has been very much more of the same in France with a third predominantly snowy week here too. Resorts did report small accumulations in the 2-6cm (1-3") bracket at the end of last week up on higher slopes but that really just gave a minimal freshen up. So it continues to be sunny, with almost all slopes open at every major area. But the same issue, with rather too warm weather on lower slopes below around 1500 metres. This is not a problem for almost all of the countrys destination resorts as their slopes are much higher; however, it is an issue at traditional villages with lower bases and smaller, lower ski areas. Snow depths continue to drop too. A fortnight ago the deepest snow reported was just over 3 metres, a week ago it was just under 3 metres (10 feet) and now it's down to 2.7 metres (9 feet) at Montgenevre (220/270cm / 88/108"). But like most big French resorts the base depth remains very healthy from November/December falls and the ski area is fully open.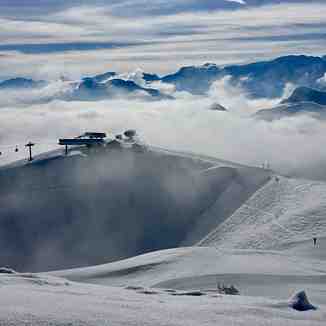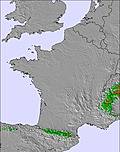 FORECAST Whilst the next few days look like they'll stay sunny the forecast for Friday and Saturday across France is for the long-awaited 'big dump' of 30-60cm (1-2ft) for resorts across the region. Hopefully, this should mean a major refresh for the slopes and once any avalanche danger has eased, fresh snow opportunities for free-riders if it is delivered as forecast.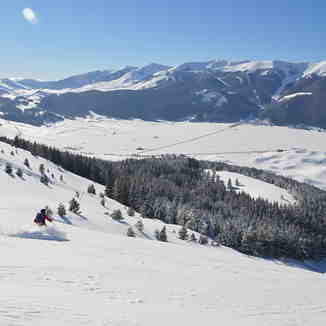 ITALY REPORT It has been another sunny week in Italy too, just like most of Western Europe, and it's a similar story to other countries here, snow depths still fairly good (in fact the Presena Glacier with 4 metres/13.3 feet up top is the deepest in Europe still) above around 1500 metres altitude. But the snow is getting old and icy below the groomed surface. Most Italian areas are fully open and skiers are enjoying the sunny slopes. As with elsewhere in Europe, fresh snow would be welcome now and smaller, low altitude ski areas are suffering from lack of snow cover.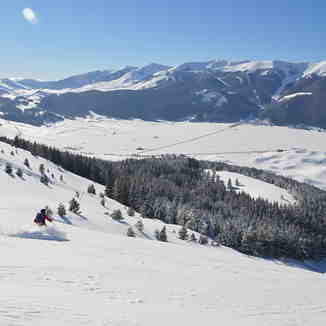 FORECAST After nearly a month now without a significant snowfall, it is looking promising for a decent fall this coming weekend across Italy. It's actually more southerly and central ski areas in the Italian Alps that are looking likely to see the biggest falls (30-60cm) in regions like Piedmont and the Apennines, but most others ski areas should see 10-20cm of snow at least on Saturday/Sunday if current forecasting models hold true through to the weekend.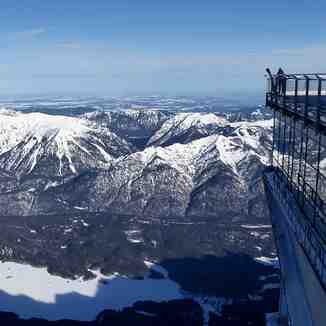 GERMANY REPORT It's still not a very happy picture for most of Germany's smaller, lower ski areas as temperatures are generally staying above freezing, often by 4 - 8 degrees. There's no natural snowfall and it's too warm for conventional snow-making. Most that have been able to open do still have at least a kilometre or so of slopes open using earlier snow from December falls. The bigger, higher, destination resorts are in rather better shape although the snow is generally soft and many have limited terrain open. The countrys highest slopes on the Zugspitze (143/155cm / 47/62") have by far the deepest snow. The Fellhorn Area (5/80cm / 2/32") reports the most terrain open in the country with 36km and that all lifts are operating and all runs open.
FORECAST After weeks of weather too warm for skiing at many German resorts there should finally be a blast of full winter at the weekend with temperatures set to drop well below freezing and some significant snowfalls expected down to low elevations across the countrys ski slopes. Whilst it may only be 5-15cm (2-6") for some, others should see as much as 50cm (20") of snowfall.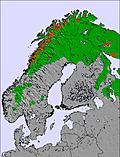 SCANDINAVIA REPORT Scandinavia has retained its title as 'snowiest spot in Europe' for a second week and can claim to be the snowiest area of the new decade, so far, as a result. It has continued to snow across the region as temperatures have risen and fallen back again to double digits below freezing. How far above freezing they get at the highs depends on how far north you are, but generally not much and after a certain latitude, not at all. Among the bigger dumps reported in 24 hour periods were 25cm (10") for Sweden's Hemavan (100/100cm / 40/40"), which has one of the deepest bases in the region; good news as its season runs into May, and the same for Norway's Hovden (65/85cm / 26/30"), also open to May.
FORECAST There's not much change in the forecast for the coming week with more snow forecast for many areas. Unfortunately, it is looking unseasonably warm now at some areas, like Norway's coastal Voss, where there may be periods of rain mixed in with the snow because of its location.

SCOTLAND REPORT A proper start to Scotland's ski season continues to be on hold as the country waits with eternal optimism for the increasingly rare period of consistently cold weather along with some significant snowfall. Conditions are a little better than they were a week ago. After violent gales midweek last week and very warm double-digits above-freezing temperatures it cooled down and there has been some light hill snow. It just hasn't been constantly cold (warm again at the weekend) and there hasn't been a huge amount of snow. Glenshee (0/10cm / 0/4") has closed for a little over a week but hopes to re-open later this week. It and the countrys other centres are continuing to offer mostly beginner classes on small areas of snow made with their all-weather snow-making machines.

FORECAST It should be an improving picture in Scotland over the coming week with temperatures set to stay around freezing with frequent snow showers. Potentially these could be enough to allow the Highland centres to start reopening terrain if the projected volumes live up to expectations and not too much snow is lost as gale-force winds are also forecast throughout the week.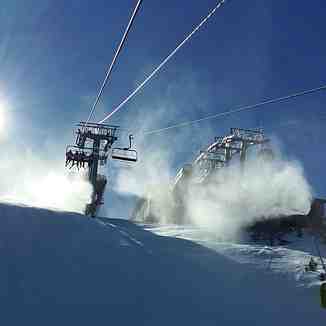 SPAIN / ANDORRA REPORT After three weeks with not much change to report, there was, at last, some fresh snow in the Pyrenees at the end of last week going into the weekend. Ski areas reported 10-20cm (4-8") of fresh snowfall on Friday morning last week, the most for many since before Christmas and in many cases the first of the new year/decade. But after a fresh snow weekend, with avalanche danger low off-piste, we are back to a similar picture to what we had before with mostly sunny days, most slopes open and decent depths. Temperatures are once again a little too warm, although not unusual for the region, a few degrees above freezing and the snow soft once any overnight freeze passes. The regions biggest area Grandvalira (30/70cm / 12/28"), in Andorra, remains almost completely open with nearly 200km of runs groomed, just a handful of blacks are still closed.

FORECAST It is still some way off for complete certainty but current forecasts are projecting one of the biggest snowfalls of the season coming up this weekend in the Pyrenees with, we hope, 30-70cm (12-28") of snow expected on Saturday/Sunday after a few more dry days. After hovering a little above freezing this week, temperatures should drop to double digits below by Sunday.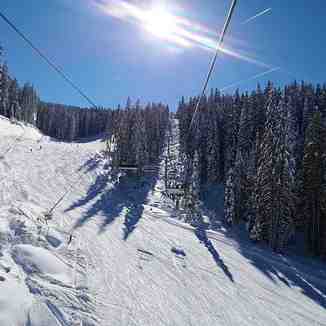 BULGARIA / ROMANIA REPORT It has been another largely dry, often sunny week in southwestern Europe with little change in conditions. Temperatures are a little below freezing on higher slopes but above freezing on lower runs and in resort causing some areas to continue to struggle to open much. Vitosha (20/30cm /18/12"), for example, has just a couple of runs open. In Bansko (5/80cm / 2/32") it's a better picture, thanks in part to their snow-making operation, with most runs open here. The FIS has given the go-ahead for World Cup racing here next week too.
FORECAST There's no real change in the forecast for ski areas in the region for the coming week. Theres no real snow forecast and temperatures continuing to hover around freezing on higher slopes but remain too warm on lower runs and down in resort.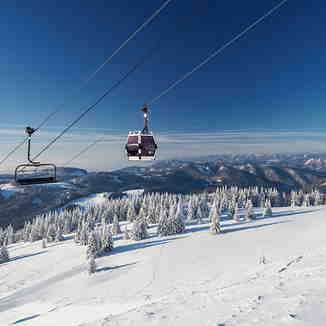 CZECH REPUBLIC / SLOVAKIA REPORT Ski areas in the High Tatra mountains, particularly in Slovakia, have topped snowfall tables in Europe (outside Scandinavia) for a second week with Tatranska Lomnica (40/50cm / 16/20") reporting the biggest seven-day accumulations with 44cm (18") of new snow. Jasna (30/80cm / 12/32") was in second place with 42cm (17") although for both resorts and the wider area the heavier snow was a week ago now with smaller falls of just a few centimetres into the weekend.
FORECAST It's going to a mixture of sunshine and cloud for the rest of this week with, hopefully, temperatures staying just the right side of freezing to maintain the existing snow cover. Things look more changeable at the weekend with the likelihood of fresh snowfall.

USA / Canada

NORTH AMERICA INTRO It has been a fairly white second week of the new decade for parts of the continent, whilst others have stayed mostly dry. Its the second successive week that the Northwest has been the snowiest part of North America (and indeed the world) with resorts, here again, reporting more than 5 feet (1.5 metres) of snow in the past seven days. Ski areas in Washington state, British Columbia, Idaho, Oregon, Wyoming, Alberta and Utah have all posted some big fresh accumulations. In fact, theres been so much snow that North America has finally overtaken Europe (where theres been little snow for the past three weeks) for the deepest base anywhere in the world, with a resort on 165" (412cm) against Europe's deepest 160" (400cm). It has also probably been the snowiest week this season so far in the east too with resorts in New York State, Vermont and the wider region posting up to to 24" (60cm) of snow. The news isn't all good though as there was the return of freezing rain at a few resorts up in Quebec.

ROCKIES REPORT Lots more snow for The Rockies and surrounding region although the further north you go the more snow there has been. Jackson Hole (31/90" / 77/225cm) again reported one of the biggest snowfalls anywhere in the world as it did last week. This time the seven day total was another 64 inches (1.6 metres), the third biggest reported in the world over the last seven days. A little further south, Utah has seen lots of fresh snowfall too with Alta (106/106" / 265/265cm) posting another 56 inches (140cm). Snow too for Colorado but this week the biggest totals were 22 inches (55cm). Still plenty to get excited about.

FORECAST A similar pattern to the first fortnight of the year with heavier snow forecast the further north in the region you go. 4-8 inches (10-20cm) is expected for Colorado put perhaps double that in Utah and further north. Heavier snow expected over the next two or three days, currently forecast to be drier at the weekend.

USA WEST REPORT Northwest North America continues to be the snowiest place in the world at present, catching up fast after its slow season start last month. Alpental (75/165" / 187/412cm), in Washington State, reports 3ft (90cm) in the past 48 hours. Further south it was much drier with little snow reported on the mountains of southern California again. The heavy snow in the northwest has been causing snow safety issues, most painfully demonstrated by a multi-casualty rare in-bounds avalanche in Idaho last week. Resorts are now also renewing their annual warning of the dangers of getting trapped in tree wells.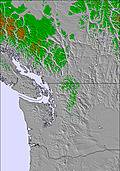 FORECAST A similar week ahead to the two just passed with heavier snowfall expected up in the north of the region in Washington State and Oregon and some smaller accumulations further south. At least some snow is expected in southern California later this week, which has been pretty dry over the past month now. But probably only a few inches still.

MIDWEST REPORT Some major snowstorms forecast for the Midwest did not really impact quite as hard as expected but it is generally an improving picture after the warm period at the turn of the year, nonetheless. It's now much colder and closer to normal, up to 20 degrees below freezing at times. Welch Village ( 26/65" / 64/165cm) is posting the deepest base in the region and indeed east of the Rockies.
FORECAST Temperatures look set to stay in double digits below freezing and fronts are moving through over the next three to five days which should bring significant snowfalls across the region and potentially some of the best conditions of the season so far.

USA EAST REPORT It's been a week of mixed fortunes with some areas to the south not seeing much snowfall and others up in Vermont and Maine, among other areas, seeing significant accumulations, some of the biggest falls of the season so far in fact and great conditions. Wachusett Mountain Ski Area in Massachusetts (45/56" / 114/140cm) has the deepest reported base in the region.
FORECAST Quite an unusually mixed bag of forecasts across the East with some areas expecting small regular falls on a daily basis through the coming week. Others may not see much snow on some days but then big falls could arrive for other resorts. Some areas could see mostly dry weather. So, to sum up, fast-changing and varied conditions across the region. Generally, though it looks snowier further north, drier but getting colder to the south of the region.

CANADA WEST REPORT Canada's deepest snow is being reported on the countrys west coast for the first time this winter after more huge snowfalls there. Cypress Mountain (270cm/270cm / 108/108") reported 95cm (38") of snowfall in just the past 72 hours and has leapfrogged resorts further east in BC to take the deepest base spot. It was less than a week ago that the deepest base in the country was only 2 metres so things are moving fast and the snow is coming down. Whistler Blackcomb (201/201cm / 80/80") is also finally getting nearer to its normal operations after its poor snowfall starts with now around two-thirds of its 200+ trails open, up from half a week ago after heavy snowfall there too.
FORECAST Another wave of heavy snowfall is expected to hit the west coast of BC at the weekend with another 49-60cm (16-24") forecast. So a little less than the past few weeks but still a good extra accumulation. Further inland (central and eastern BC and Alberta) it looks pretty dry for the coming week.

CANADA EAST REPORT There has been good news at last in eastern Canada with the first significant snowfalls of the winter at the weekend with up to 30cm reported in Ontario and Quebec, including at some of the areas that had needed it most around the Quebec City region and down in the eastern townships. Alas, the news wasn't 100% straight forward with Mont Sutton closing on Sunday due to extreme weather fears including freezing rain. But generally, it's a big improvement on even a week ago after a poor start to the season for snow cover in the region.

FORECAST There's more significant snowfall in the forecast for eastern Canada with 40-60cm (16-24") accumulations forecast for next weekend, the larger part currently expected on Saturday. This is still a little way off so the forecast may change but currently looks promising for continued improvement.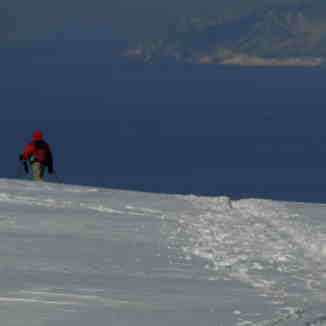 JAPAN REPORT Alas, the hoped-for start of Japan's delayed winter 2019-20 is continuing to stall. After the 90cm of snow at the start of the month at Niseko (70/200cm / 28/80") there's been little snowfall again for another week. But although the off-piste powder may be lacking the resort reports all lifts running and most groomed runs open. Niseko's season to date snowfall totals (382cm/13 feet) are dramatically down on last winter (951cm - 32 feet by this time) and the even more snowy winter 2017-18 when the area had1260cm (42 feet) by now. Sadly, it's a similar (and generally worse) picture across Japan.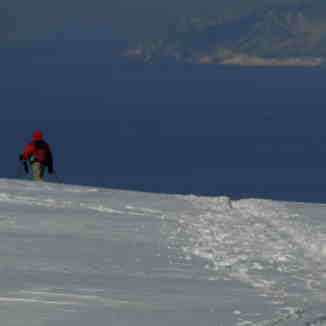 FORECAST There's no big respite to the dry spell in Japan in sight at present, unfortunately. Currently, we are seeing very small snow accumulations in the forecast, just the odd centimetre here and there really, over the week ahead. The good news is that it does look like it should stay cold with double digits below freezing. So, when precipitation does arrive it should be the famed powder not more of the recent rain and sleet.