Resumen de Nieve Mundial
Hemos creado esta página para ayudarle a encontrar las mejores condiciones de nieve. Combina datos pasados, presentes y futuros de Snow-Forecast.com con actualizaciones regulares. La página de Resumen de Nieve se actualiza los lunes y jueves para todas las principales estaciones de esquí. Reportes de Nieve en vivo están mostadoas en tiempo real cuando este entregado por Twitter por nuestra red global de periodistas. La lista de Selección de Estaciones enseña las estaciones de esquí alrededor del mundo donde se pronostica nueva nieve, se reporta nieve en polvo y las últimas profundidades de nieve.

SNOW ALERT

INTRODUCTION Europe was in the grips of Storm Evi on Thursday 18th January, which had almost as chaotic an impact as storm Eleanor did two weeks ago. This week saw lift closures due to wind and excess snow, reduced visibility across many resorts and an increasing avalanche risk. It is not all negatives of course, with the storm delivering substantial quantities of snow across the vast majority of the Alps across France, Italy, Switzerland and Austria. This led to excellent riding conditions expected in many resorts, especially after the clouds clear. The storm is far from over however with more snow expected, most heavily in the northern French Alps, resorts around the Matterhorn and the Arlberg region.
AUSTRIA After a relatively prolonged period of calm conditions Austria finally saw substantial quantities of fresh snow, which was predicted to continue to fall at least until the end of the weekend. The first clouds moved in on Monday, with fresh snow beginning to fall from Tuesday, with minimal respite since then. Heavy winds led to closures of some resorts and restricted lift access on Wednesday 17th January, though this had abated somewhat by Thursday. However some lifts and connections are still not open, for example between Ischgl (50/130cm) and Samnuan (60/150cm) across the border in Switzerland. Limited lift operations continue at Kaprun (150/325cm) and Piztal; while the glaciers at Kaunertal (250/390cm) and Solden (10/279cm) remain closed. More limited lift operations were found elsewhere, including on 38/58 in the Skiwelt area and 39/87 in the Arlberg. A new warm front bought mild temperatures to the region on Thursday 18th January, with temperatures rarely dropping far below zero; with the risk of very wet snow coming down in the valleys, potentially even rain. This will change once again on Friday though as temperatures drop once more in preparation for another day of very heavy snow on Sunday. Some of the highest snowfalls were recorded around the glaciers, with 50cm coming down over Kaprun, while Sallbach Hinterglemm (90/175cm) has seen the same amount. Elsewhere, Ischgl and the surrounding resorts have seen some of the best quantities of snow that have fallen.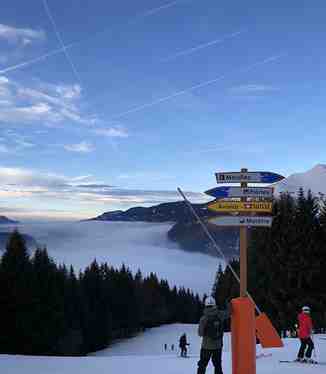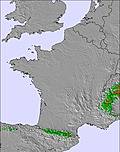 FRANCE France has bared the brunt of the storm Evi, which has delivered heavy snow and wind across almost all of the Alps. The most substantial snowfalls have been across resorts such as Argentiere / Chamonix (80/220cm), which saw 40cm just in the morning of the 18th, Les Arcs (120/330cm) with 50cm falling on the 17th, and Saine Foy (135/310cm). However, even beyond these headline figures, almost all resorts have seen prolonged snowfall over the past four days, which looks set to continue unabated at least until Sunday. These extreme conditions and wind saw lift operations impacted across many resorts, including some full closures in Les Arcs (120/330cm) and La Plagne (210/350cm). Thursday the 18th saw slightly calmer conditions, with no resorts fully closed and an increasing number of lifts in operation. This is by no means guaranteed to remain the case however, with Saturday and Sunday in particular forecast to bring another 40-80cm of new snow across some resorts.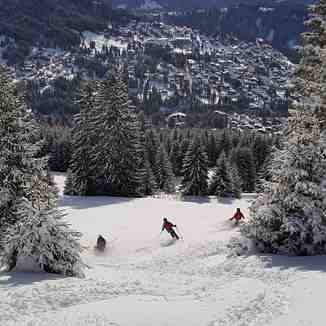 SWITZERLAND There have been consecutive days of snow in Switzerland so far this week. Notable snowfall recordings in the last 24 hours were in Verbier (85cm/250cm), Arosa (100cm/150cm) and Adelboden/Lenk (22cm/150cm) all recorded large snowfall amounts of 40m, 30cm and 25cm respectively. With all the heavy snowfall and blizzard like conditions, this has led to closure of resorts such as Saas Fee (115cm/380cm) which for the whole week has either had very limited skiing or completely closed, like it is today. There is limited skiing today in Engelberg (5cm/531cm) and Gstaad (30cm/160cm). The twin resorts of Davos (120cm/230cm) and Klosters (120cm/230cm) have decided to open lifts in phases, as there currently are high winds and heavy snow. More snow is forecast for the weekend. In Jungfrau region the resorts of Grindelwald (5cm/178cm) and Wengen (31cm/100cm) have both forecast 100cm of snowfall. Other notable snow forecasts will be in Murren (96cm/334cm), and Grimentz /Zinal (80cm/203cm) which have forecast 93 and 92cm of snowfall respectively.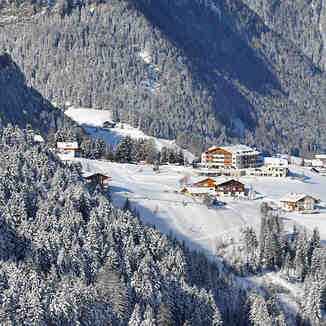 ITALY There was a huge amount of snowfall in Italy in the past few weeks. Conditions were mixed on Thursday 18th January, with some resorts enjoying sunny weather and in other resorts the snow continued to fall. Val Senales (110cm/220cm) recorded 30cm of snowfall in the last 24 hours, to provide fantastic ski conditions with more light snow today. The resorts of Campitello (40cm/240cm), Canazei (40cm/240cm) and Selva Gardena (25cm/115cm) all recorded a light dusting of around 5cm of snow. Cervinia (90cm/310cm) is temporary closed today, due to extreme weather conditions, in which another 10cm of snowfall was recorded. More snow is forecast for the weekend, with a few of our featured resorts forecasting big snowfalls. Courmayeur (140cm/230cm) and La Thuile (80cm/250cm) have both predicted 90cm of snow by Sunday. Bardonecchia (80cm/220cm) has forecast 71cm of snowfall by Sunday.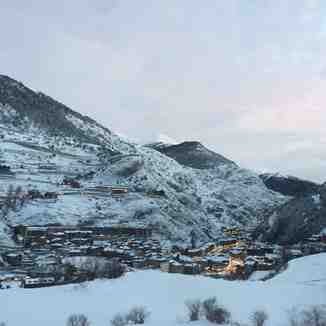 ANDORRA It was an uneventful week in Andorra, with no new snow since the light dusting that came down on the past weekend, which itself had minimal impact on conditions. Since then there has barely been a dark cloud in sight, let alone new snow. Temperatures have been equally mild, hovering slightly below zero, luckily looking to stay as such when new clouds arrive on Saturday, meaning any precipitation should fall as snow. This once again will be a momentary blip however, as clear skies look to return on Sunday.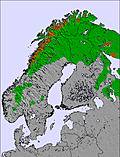 SCANDINAVIA It's been yet another week so far without new snow falling in our featured Finnish resorts, each now hitting the 11 day mark. Pistes were looking increasingly hard underfoot, and when coupled with overcast but dry skies, conditions do not offer the most appealing at present. Norway fared substantially better this week, with new snow across all resorts other than Oppdal (50/90cm), with clouds remaining over resorts on Thursday 18th January. Hamsedal (120cm) have seen 39cm in the past 3 days, with the webcams showing plenty of untracked snow. A similar amount has come down across the slopes that form Lillehammer (150/60cm), with Hafjell in particular offering the best conditions currently. Fresh snow had also come down across both of our featured Swedish resorts, with Are (89cm) seeing a light 6cm dusting to refresh the slopes somewhat, while Salen (118cm) has seen a more substantial quantity, 23cm in the past 3 days. This, coupled with a larger 87 lifts running and continuing snow makes it the better opportunity for any Swedish skiing.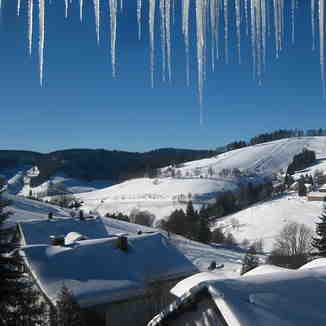 GERMANY Mild temperatures across the region on Thursday 18th January bought the risk of rain to those resorts that were seeing precipitation. All our featured resorts had seen moderate snow in the past 72 hours, adding as much as 50cm to the bases in resorts such as Feldberg (35/80cm) dramatically improving previously underwhelming slope conditions. Spitzingsee (85/180cm) however is the standout resorts, reporting 90cm of new snow over the past two days. Elsewhere, in Garmisch (145/340cm) access to Zugspitze is still closed due to wind. As with much of the surrounding region, this stormy period is expected to continue through to Sunday deliver large quantities of fresh snow before temperatures begin once again to return above freezing.

EASTERN EUROPE In Bulgaria, heavy winds led to the closure of both Bansko (20cm/180cm) and Pamporovo (15cm/45cm), however both resorts have announced that they may re-open today if the weather conditions do improve. Spindleruv Myln (50cm) in the Czech Republic enjoyed some fantastic conditions with 15cm of fresh snowfall overnight and another 20cm expected today. Kranjska Gora (40cm/70cm) has some great snow and weather conditions, with plenty of sunshine and blue skies.

SCOTLAND It's been a chaotic week in Scotland, with heavy snowfalls, reduced visibility, and high winds leading to substantial snowdrifts. Every resorts has been able to add to their base due to the heavy snow delivered by storm Evi, which was aided by continually low temperatures preventing any degradation of the new snow. Caigngorm (25/60cm) and the Aviemore area for example have seen 34cm coming down on Wednesday daytime and the night into Thursday, which alongside clear skies on the 18th January provided some excellent riding conditions. It is a similar story in other resorts, where decreasing wind has allowed for a wider range of lifts to be operated including in Glencoe who are offering some of their best conditions of the season so far. In the Nevis Range (30/40cm), the lower slopes are offering excellent groomed conditions, with the potential for skiing in the Back Corries as well. These improved conditions look to last at least until the weekend, making it a perfect opportunity for those considering some UK based skiing.

USA Many resorts across the USA saw snow this week, abate quite small quantities. New England resorts, including Mount Snow (76cm) and Attish Bear Peak (31/61cm) seeing noteworthy amounts. However many of these resorts are still recovering from last week's rain, meaning new snow is replacing that which was lost rather than building a more substantial base. In California, Squaw Valley (46/97cm) was predicted 30cm on Thursday 18th, though other resorts were less fortunate, a smaller 10cm was forecast over Heavenly (46/81cm) and nothing was on the cards for Mammoth (102/213cm). Big Sky and Jackson Hole are also expecting some snow over the coming days, though less than these resorts are often reputed to see. Alyeska (279cm) at least has seen plenty of fresh snow as would be expected in Alaska, with 20cm coming down on Wednesday. The coming weekend looks to bring moderate temperatures to Utah and Colorado over the weekend, with a very welcome 26cm predicted to fall on Purgatory on Saturday.

CANADA The skies had darkened once again over Canada on Thursday the 18th January, with all our resorts currently under cloud cover, bringing snow to some but not all ski areas. Kicking Horse (156cm) in British Columbia is offering some great powder skiing under relatively mild temperatures for Canada at this time of year. Some resorts saw high winds impact their lift operations however, principally big white (190cm), which was forced to suspend three lifts. Mont Sainte Anne (50/191cm) and Tremblant (60cm) continue their work to recover from the rain, a process luckily aided by recent snowfall. Though for the most part these are not expected to deliver huge quantities, light dustings as far as the forecast goes should add together into a noteworthy build-up. As seems to be tradition, the exception to this story is Whistler (209cm), which is set to a comparable amount of snow in the next couple of days as some other resorts may see in the next ten.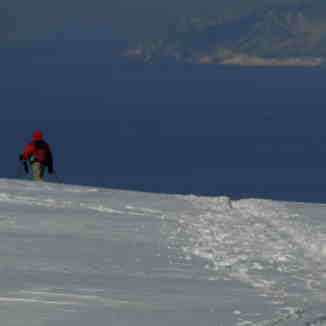 JAPAN The comparable lack of snow this month in Japan compared to December continues, with neither Hakuba (85/345cm) nor Niseko (160/360) having yet seen 1m in January. Wednesday bought rain to Hakuba, while fog impacted visibility in Niseko on Thursday, with neither resort offering especially promising conditions this week at all. Luckily, the early season bases have given a strong foundation, meaning these recent underwhelming conditions are not having a significantly detrimental effect on snow quality. Luckily this coming weekend looks to provide some welcome new snow, hopefully bringing the ski areas back on track.efully bringing the ski areas back on track.